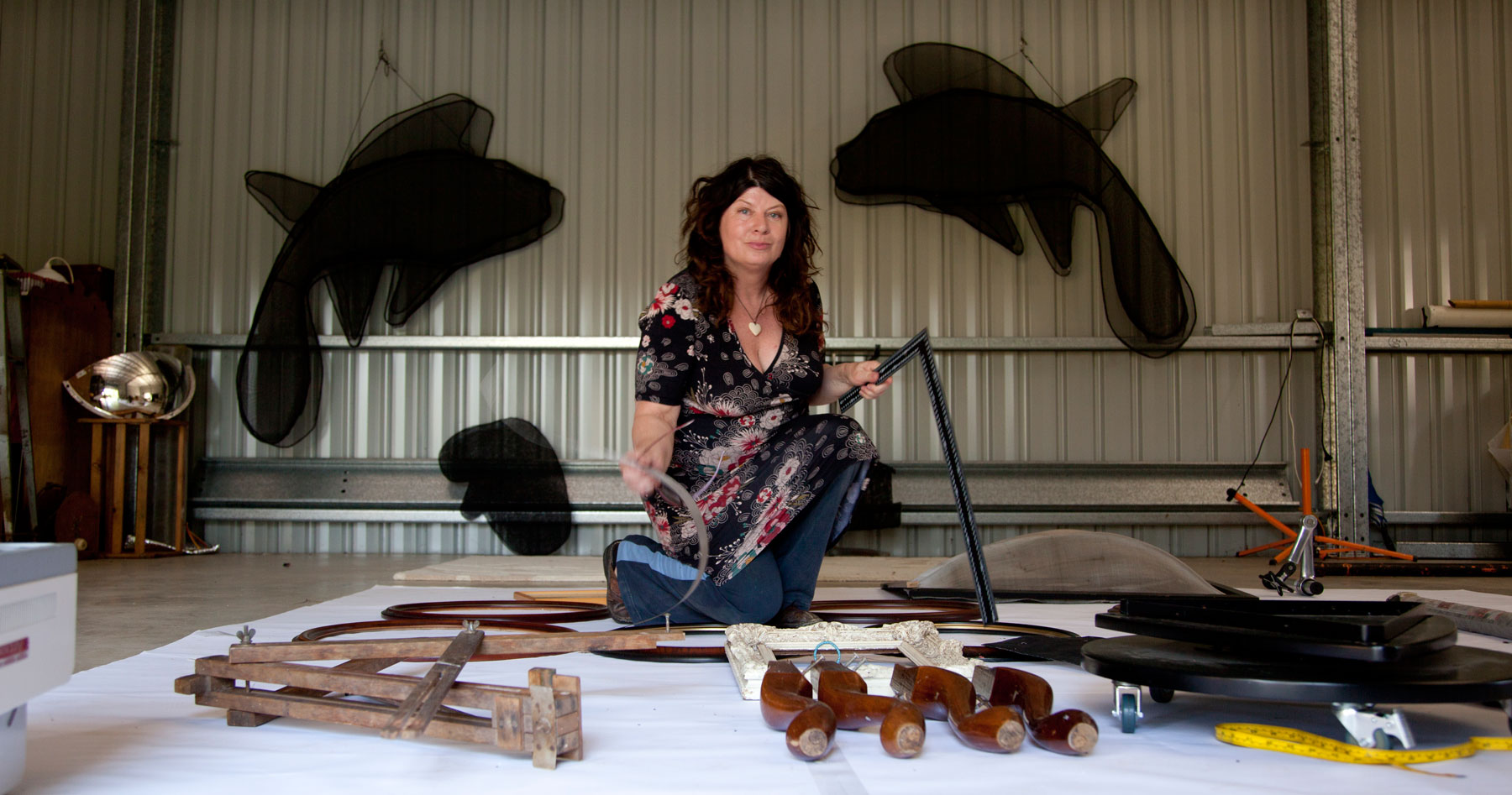 BIOGRAPHY
Is a regional award-winning Australian interdisciplinary artist, specializing in projection, sculpture and site-specific installation for over 20 years. Her projection technique creates holographic sculptures, installations, and lush projected architectures. Internationally exhibited, her work has been presented in QCP (Queensland Centre of Photography), QUT Arts Precinct, the Australian National Museum, Falls Festivals & Artstate 2017. 
Marion participated in residencies with Blast Theory (UK), Antagon Aktion Theatre (Frankfurt) and Artspace (NSW), and had a two-year residency at University of Queensland's ViSAC laboratory (Immersive VR) funded by Arts Queensland.
She has collaborated with many major figures in the arts world, notably with Judy Watson, Suzon Fuks (Igneous 1998-2001), and Denis Beaubois ("In the Event of Amnesia the City Will Recall"). 
In 2007, Marion sustained mild traumatic brain injury (MTBI) in a severe car accident. In 2016-17, she has resumed her arts practice, with exhibitions "Unravelling" with the Epicormia Collective at the North Coast Community Gallery, "Unravell Egg" and "Autumn Flower" @ Artstate 2017, and visuals for "Godzilla" & "Paradise 1" for Baddogs @ Casula Powerhouse.
In 2017, Marion received a standing ovation from the Bonalbo Community for work on "If These Halls Could Talk", project as well as an Australia Day Award and Southern Cross University Community Engagement Award. "Unravell Egg" and "Autumn Flower" were exhibited at Artstate Lismore (2017), visuals for "Godzilla" & "Paradise 1" for Baddogs at Casula Powerhouse (2018) and "Lines in the Sand" for the Commonwealth Games Cultural Program 2018.
Recently she was awarded Australia Council for the Arts Multi-Arts grant (2018) for her body of work Museum of My Friends #1, a mentorship based project, to create an interactive installation including a Screen-Sculpture with Urban Arts Projects (Brisbane) & Suzon Fuks. The work was well received at both solo exhibitions at Gunnedah Bicentennial Creative Arts Gallery in 2018 and Lismore Regional Gallery (2019). Museum of My Friends #2 will be further developed and exhibited at the Red Rattler and Casula Powerhouse in Sydney 2020. 
Symbiotic to her creative practice, Marion's business arm creates lush projection architecture at clubs, festivals and events, including the Falls Festival, Tropical Fruits, and Brisbane nightclub Family (2005-2013), clocking up over 500 gigs alongside numerous national / international DJ's Additionally, as an arts activist, Marion is well-known for her role in establishing community television regionally and nationally. She founded LINC TV, the first regional station to go to air, was active in the Parliamentary use of the sixth television channel (HRSCoTCHI), and became the National Community TelevisionCoordinator at the CBAA (Community Broadcasting association of Australia)  during the roll out of cable and emerging technologies(1990's). Watch Marion launching Linc TV
CURRICULUM VITAE
87 Crown Street, Lismore NSW 2480   0488623290
marionconrow@yahoo.co.uk      https://marionconrow.com
EDUCATION
1994 Bachelor Degree in Media & Fine Arts (Sculpture & Video) – Southern Cross University. 1983 Ceramic design – Chisholm Institute (Monash University).
AWARDS & GRANTS
2018 Australia Council for the Arts – multi arts individual project grant for Museum of My Friends #1 2018 Southern Cross University – Community Engagement Award for "If These Halls Could Talk".
2017 Australia Day Award for work on "If These Halls Could Talk" (Bonalbo & District Memorial Hall). 2016 ANZ FRRR Seeds of Renewal Grant for Technology workshops in Bonalbo NSW.
2015 NSW Ministry of Arts (Create NSW)– Epicormia Collective – arts development grant.
2005 & 6 Arts Queensland – Quivver -University of Queensland ViSAC VR residency & development. 1993 Southern Cross University Media & Writing Award.
1992 Southern Cross University Union Sculpture Award.
MAIN SKILLS
Interdisciplinary artist, projection installation, technician, Sculpture.Video & Still production – camera, vision mixing, Vjing Grand Vj & Resolume, editor Media100, Final Cut Pro & Premier
WORK
Site specific projection installation & sculpture in collaboration with other artists in vi