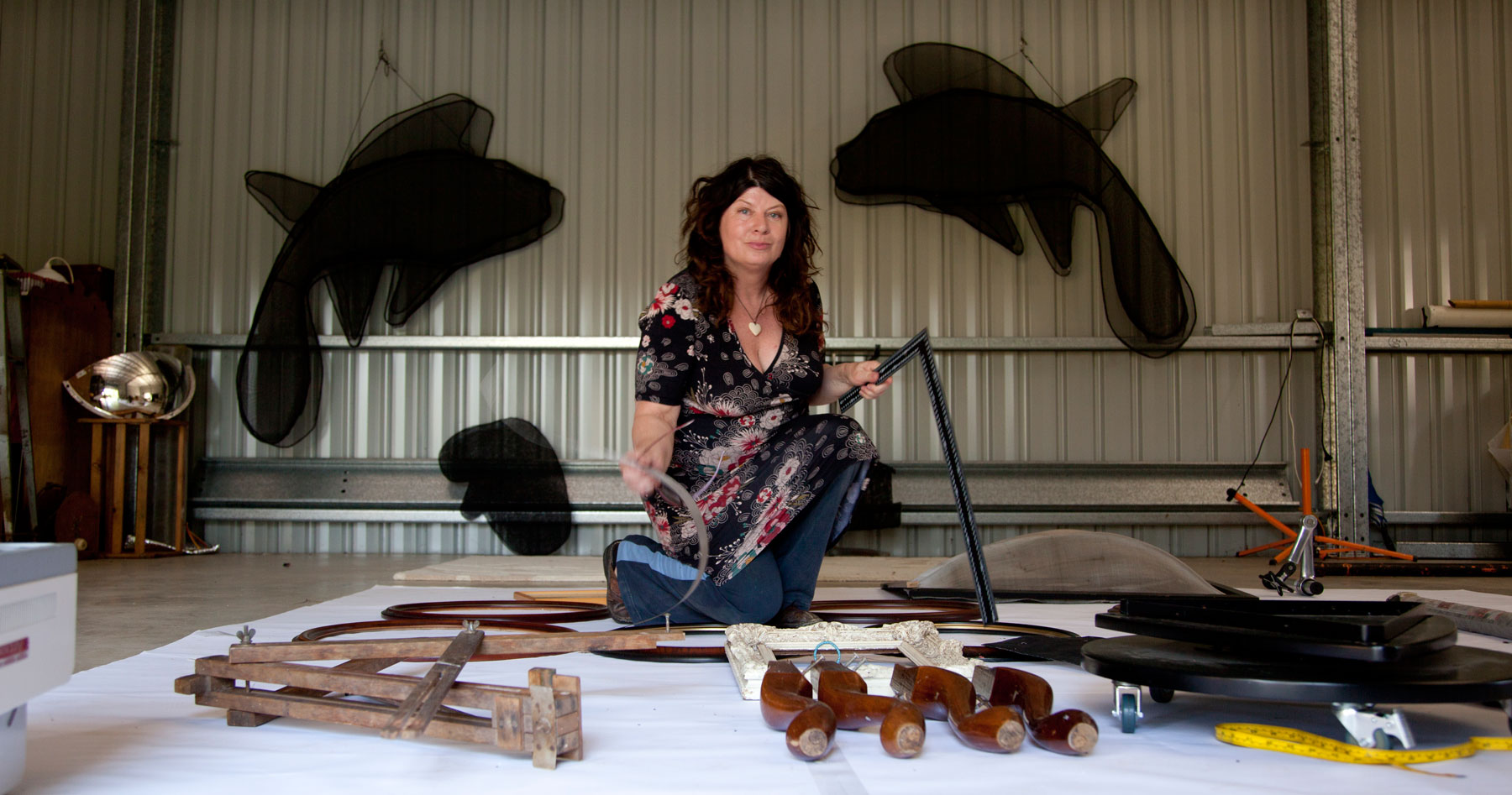 BIOGRAPHY
Is a regional award-winning Australian interdisciplinary artist, specializing in projection, sculpture and site-specific installation for over 20 years. Her projection technique creates holographic sculptures, installations, and lush projected architectures. Internationally exhibited, her work has been presented in QCP (Queensland Centre of Photography), QUT Arts Precinct, the Australian National Museum, Falls Festivals & Artstate 2017. 
Marion participated in residencies with Blast Theory (UK), Antagon Aktion Theatre (Frankfurt) and Artspace (NSW), and had a two-year residency at University of Queensland's ViSAC laboratory (Immersive VR) funded by Arts Queensland.
She has collaborated with many major figures in the arts world, notably with Judy Watson, Suzon Fuks (Igneous 1998-2001), and Denis Beaubois ("In the Event of Amnesia the City Will Recall"). 
In 2007, Marion sustained mild traumatic brain injury (MTBI) in a severe car accident. In 2016-17, she has resumed her arts practice, with exhibitions "Unravelling" with the Epicormia Collective at the North Coast Community Gallery, "Unravell Egg" and "Autumn Flower" @ Artstate 2017, and visuals for "Godzilla" & "Paradise 1" for Baddogs @ Casula Powerhouse.
In 2017, Marion received a standing ovation from the Bonalbo Community for work on "If These Halls Could Talk", project as well as an Australia Day Award and Southern Cross University Community Engagement Award. "Unravell Egg" and "Autumn Flower" were exhibited at Artstate Lismore (2017), visuals for "Godzilla" & "Paradise 1" for Baddogs at Casula Powerhouse (2018) and "Lines in the Sand" for the Commonwealth Games Cultural Program 2018.
Recently she was awarded Australia Council for the Arts Multi-Arts grant (2018) for her body of work Museum of My Friends #1, a mentorship based project, to create an interactive installation including a Screen-Sculpture with Urban Arts Projects (Brisbane) & Suzon Fuks. The work was well received at both solo exhibitions at Gunnedah Bicentennial Creative Arts Gallery in 2018 and Lismore Regional Gallery (2019). Museum of My Friends #2 will be further developed and exhibited at the Red Rattler and Casula Powerhouse in Sydney 2020. 
Symbiotic to her creative practice, Marion's business arm creates lush projection architecture at clubs, festivals and events, including the Falls Festival, Tropical Fruits, and Brisbane nightclub Family (2005-2013), clocking up over 500 gigs alongside numerous national / international DJ's Additionally, as an arts activist, Marion is well-known for her role in establishing community television regionally and nationally. She founded LINC TV, the first regional station to go to air, was active in the Parliamentary use of the sixth television channel (HRSCoTCHI), and became the National Community TelevisionCoordinator at the CBAA (Community Broadcasting association of Australia)  during the roll out of cable and emerging technologies(1990's). Watch Marion launching Linc TV
CURRICULUM VITAE
87 Crown Street, Lismore NSW 2480   0488623290
marionconrow@yahoo.co.uk      https://marionconrow.com
EDUCATION
1994 Bachelor Degree in Media & Fine Arts (Sculpture & Video) – Southern Cross University. 1983 Ceramic design – Chisholm Institute (Monash University).
AWARDS & GRANTS
2018 Australia Council for the Arts – multi arts individual project grant for Museum of My Friends #1 2018 Southern Cross University – Community Engagement Award for "If These Halls Could Talk".
2017 Australia Day Award for work on "If These Halls Could Talk" (Bonalbo & District Memorial Hall). 2016 ANZ FRRR Seeds of Renewal Grant for Technology workshops in Bonalbo NSW.
2015 NSW Ministry of Arts (Create NSW)– Epicormia Collective – arts development grant.
2005 & 6 Arts Queensland – Quivver -University of Queensland ViSAC VR residency & development. 1993 Southern Cross University Media & Writing Award.
1992 Southern Cross University Union Sculpture Award.
MAIN SKILLS
Interdisciplinary artist, projection installation, technician, Sculpture.Video & Still production – camera, vision mixing, Vjing Grand Vj & Resolume, editor Media100, Final Cut Pro & Premier
WORK
Site specific projection installation & sculpture in collaboration with other artists in visual, sound and performance. 2018/9 Australia Council for the Arts multi arts grant creating Museum of My Friends #1 -interactive projection sculpture with Urban Arts Projects.
2018 Lighting designer Lines in the Sand Cultural program Commonwealth Games.
2018-1996 Projection Installation event work with over 500 gigs, Family Night club, Bad Dogs, Tropical Fruits. 2005- 2018 Projection installation and Visuals Tropical Fruits New Years
2017 Regional Arts NSW – Artstate Lismore featured artist- projection sculpture "Unravell Egg' & "Autumn "video.
2017 Projection sculpture installation and visuals for "The Overtopping" Artstate Lismore.
2017 Visuals installation Bad Dogs at Casula Powerhouse.
2016 "Unravelling 2016" Northern Rivers Community Gallery, Ballina, NSW.
2016 Awarded ANZ FRRR Seeds of Renewal for Bonalbo & District Memorial Hall to run Technology workshops.
2016 Projection sculpture"Unravell Egg" in "Unravelling 2016" Epicormia Collective@ NRCG funding Create NSW.
2016 Key Artist interactive projection installation– Home Coming project for REAL ART WORKS.
2016 Projection installation artist for Phillip Channels Corner Lab Dance intensive.
2016 Community engagement & First AD for Arts Northern Rivers "If These Halls Could Talk Project" Bonalbo.
2015-6 Artists development of personal work Epicormia Collective ARTS NSW.
2014 Projection installation commission – large scale site specific for Byron Bay Falls Festival.
2013 Projection artist residency at Red Rattler Sydney.
2011 Artist Commission & residency Global Carnival "Fish" projection sculpture.
2008 Projection installation artist commission – Bloody Bride Norpa Lismore NSW.
2008 Artists Commission 3d Metal mesh projection installation "Autumn" Family Nightclub –Brisbane QLD.
2007 Development of INTRAC VR freeware with University of Queensland maths department.
2007 large scale projection installation & sculpture– Global Carnival – Bellingen NSW.
2007 "Lamp" at Figuratively Speaking, QUT Arts Precinct.
2007 "Loaded" interactive VR – Digital Salon, QUT Arts Precinct.
2003-7 Residency at University Queensland ViSAC immersive virtual reality laboratory (Arts Queensland).
2006 exhibition @ Queensland Centre for Photography – Red Shed.
2004-6 arts development @RedShed Studios with Judy Watson.Video- "Sketchbook' Victorian Arts Centre.
2005 Visuals – CIRCA Brisbane.
2004 Projection installation Pink Feather Duster – National Museum Canberra.
2003 Artists residency Artspace Studio Ministry NSW -Woolloomooloo Sydney.
2003 Powerhouse wall video installation, collaboration with Eddie Kay (DV8).
2002 Desert Rain, Blast Theory UK Skills Exchange Lab, Artspace, Sydney.
2001-2006 Video editor, Media 100 & Final Cut Pro, Metro Screen, Sydney.
2001-2006 Tutor, Channel Free video workshops for youth, Metro Screen.
2001 Thanatonauts residency, with Igneous, (Latitude Festival), Brisbane Powerhouse.
2001 Curator, D'Art international video art D'lux Media Arts – Sydney Film Festival
2001 TILT Festival, collaborating artist for D'lux Media Arts Sydney Festival.
2000 Scenic Artist for 2000 Olympic Games Closing Ceremonies – Sydney
2000 A Public Hanging, Video doc & installation-old Adelaide gaol for Adelaide Fringe.
1998-2000 The Hands Project, multimedia artist for Igneous, Lismore & Sydney.
1998-1999 Documentary maker "From Lismore to LA",on Artwise at Art & Soul Festival USA.
1997 Residency /Video maker, Documentary on Antagon Aktion Theatre (Frankfurt),Brazilian Tour.
1996 Broadcast artist for In the Event of Amnesia the City Will Recall, by Denis Beaubois. Sydney NSW.
1995 Demonstrator's Ball, pirate TV broadcast installation(David Rogers), Sydney NSW.
1995-1996 National Co-ordinator Community Television, Community Broadcasting Association of Australia.
1995 Facilities technician and Editor Metro Screen.
1989-1994 Founder and Station Manager, LINC TV.
1993-4 Sydney Mardi Gras Party & RAT party Laser mirror sculpture assistant for Geoffrey Rose.
1990 Virtual Reality Theatre and One Extra Dance, Artist/Tech in SGI & movement sensors.
1987 Office Manager UN High Commissioner for Refugees  Tuxtla Gutiérrez, Mexico.
1985-87  United Nations New York USA
1987  -Gallery Assistant, Latrobe Valley Regional Art Gallery – Morwell, Victoria.
ARTIST STATEMENT
My arts practice encompasses striving for new ways to capture/express essence or feeling.. ghosts.. atmosphere, the ethereal.  My signature work are projection sculptures, where I co-create and  build image and sculpture in symbiosis. It is not a surface simply mapped onto, but layered, engineered & constructed.
Since a child I always felt that objects & buildings had emotions and stored memories, absorbing what had been.  Magnifying small objects to become large & ghostly so their looming presence & beauty is apparent to all, is part of my work, it is responsive to the destruction of my birth town Yallourn (Vic), which is now the Yallourn Open Cut coal mine.
The human form is what we as humans relate to mostly, again the idea of rebuilding memory, creating my own ghosts. Mostly these ghosts have been of friends & performers, in my gig work they manifest as fun and part of the community. However, in my art work its often about expressing the darker side, vulnerability, emotion,  through someone else's form. Now it is time to be brave and express myself using my own form and accepting for the body I'm housed in. This has been a confronting process.
Thanks to Australia Council for the Arts

Thanks to Create NSW 

Auspiced by Accessible Arts NSW